The Fae Conflict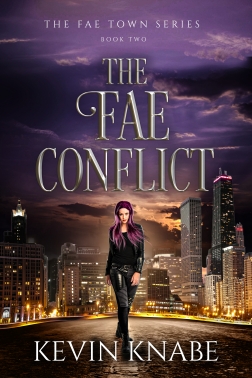 A Metaphysical Fantasy
The Fae Town Series
Book 2
Published by Vertical Mirth Publishing
Buy from:

Chicago. Tanin's abilities are growing like weeds. Yet after his impossible burst of God-level wizardry a year ago, the empathic dryad is struggling to support everyone through the unexpected changes it wrought in the city's ambient nature. And though he and his companions all wield gifts from Gaia, their first confrontation with a plague of soul-eating terrors leaves them shaken and bloodied.
Ally hates her patched-together psyche. Permanently damaged by a fae civil rights icon more concerned with power than morality, the shift in energies mends the human's sanity enough for her to chase payback. But when her ability to photograph fae magic brings her unwanted fame, she discovers she could hold the key to fighting the shadows stalking the streets.
Cloaking his unique form in glamors and illusion, Tanin doubles down on his hunt for a solution that will end the carnage. But as Ally tries to guide others to their soul's true purpose, whispers from a past self could steer her dangerously off-course.
Can their talents coexist, or will they warp reality beyond recognition?
The Fae Conflict is the enchanting second book in The Fae Town metaphysical fantasy series. If you like hopeful character arcs, clean adventures, and deep connections with nature, then you'll love Kevin Knabe's emotional quest.
October 23, 2023